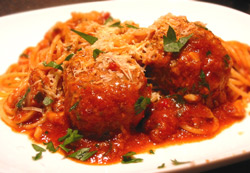 ---
As long as you have fresh, good quality ingredients and a little bit of love you can't go wrong with these succulent meatballs. Serve them with soft polenta, pasta or just a simple salad.



INGREDIENTS:

1 lb ground beef
1 lb ground pork
2 cups bread, cubed-no crust (baguette or rustic italian)
3/4 cup milk
1 ½ tsp sea salt
freshly ground pepper to taste
1/4 cup flat leaf parsley - finely chopped
1/4 cup pine nuts - ground
2 cloves garlic - finely chopped
zest of 1 lemon
1/3 cup grated pecorino or parmasan cheese
2 eggs - lightly beaten
1 ½ cups Panko Japanese bread crumbs
1/4 cup extra virgin olive oil + extra if needed

TOMATO SAUCE:
1 28 oz. can of Italian plum tomatoes, drained & crushed
1 cup stock
2 cloves garlic - finely chopped
1 tsp salt
dried pepper flakes to taste - optional

Preheat the oven to 350 degrees. In a small bowl soak the bread in the milk. In a large bowl, using your hands, combine the beef, pork, parsley, garlic, pine nuts, lemon zest, egg, cheese, salt & pepper. Squeeze the milk from the bread and incorporate into the meat mixture.

Wet your hands a little (prevents sticking) and take about 1/4 cup of meat and form into a ball, then flatten down slightly so they wont roll around in the pan. Next coat them in bread crumbs and set aside. Heat the oil in a large skillet over med heat and fry the patties until they're nice and brown. (note: you're not cooking them all the way through, just browning the outside.) Arrange them in a large casserole dish or roasting pan in one layer.

Using the same skillet, adding extra oil if necessary, sauté the garlic until barely turning color and fragrant (about 30 seconds) then add the tomatoes and stock. Season with salt and a little hot pepper if you desire and let simmer for about ten minutes.

Pour the tomato sauce over the meatballs evenly, adding a splash of olive oil over the top and place in the oven for about 35-40 minutes. When they come out top with freshly grated parmasan or pecorino and some finely chopped parsley for garnish. Makes 18-20 patties. Serves 6-8.