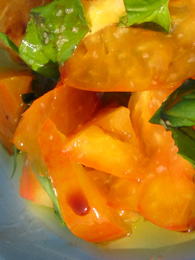 ---
Here's another great salad for eating fresh tomatoes. It's so simple and takes about three minutes to prepare. So good on a hot afternoon!


INGREDIENTS:

1 med. vine ripened tomato
2-3 leaves of fresh basil chopped
3 Tbs extra virgin olive oil
1 tsp balsamic vinegar
sea salt and fresh ground pepper
Pecorino or parmasan cheese

Dice the tomato into bite-size pieces. Roughly chop the basil. Gently toss the tomatoes with the basil in a small bowl. Transfer to a plate then drizzle with the olive oil then the balsamic vinegar. Season with a little salt and pepper. With a vegetable peeler or a small knife, top the salad with a few thin shavings of pecorino or parmasan and enjoy!