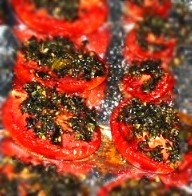 ---
Slowly roasting in a 200 degree oven for 6-8 hours concentrates the flavour, carmelizes the sugars and makes these lushious fruits super flavourful, not to mention all the yummy herbs, garlic and olive oil that's been spooned on top! We find the cherry tomatoes taste the best but definitely use a plum or paste tomato's because large juicy ones will take forever to roast and won't hold their shape as well.


INGREDIENTS:

10-12 plum tomatoes or 15-20 cherry tomatoes halved
1 tsp sea salt & 1 tsp sugar mixed
2 Tb fresh basil - finely chopped
1 Tb fresh thyme - finely chopped
1 Tb fresh oregano - finely chopped
3-4 cloves garlic - finely chopped
2-3 TB extra virgin olive oil
salt & freshly ground pepper to taste

Preheat the oven to 200 degrees. Halve the tomatoes and set on a lightly oiled baking sheet lined with foil. Sprinkle the salt and sugar mixture on top and set aside.

For the topping, take your herbs and garlic and chop everything very finely or whiz it in the processor. Add enough extra virgin olive oil to make a shaggy, moist mixture and add salt and pepper to taste. Spoon about a teaspoon of the mixture on top of the tomatoes and place into the oven for about 6 hours or so.

These are not dried tomatoes but roasted so they're still fairly soft. When they've lost about 50% of their moisture take them out to cool. When completely cool put them in a plastic container or glass jar, cover with olive oil and refrigerate. Consume within a few days and always keep refregerated.