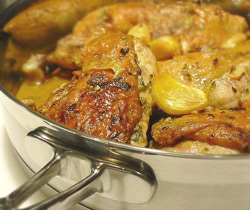 ---
This is one of our favorites. Succulent roasted chicken with the flavors of lemon, garlic and a touch of rosemary make this a comforting meal sure to please.



INGREDIENTS:

4 chicken legs with thighs separated

MARINADE:
1 Tb fresh rosemary - finely chopped
4-5 cloves garlic - chopped (about 3-4 Tb)
1/4 cup olive oil + 2 Tb for frying

CHICKEN:
2-3 Tb Chili Garlic Rub (Careful! this is a salt rub so use as you would salt) or substitute with sea salt & pepper

1 full head of garlic - cloves separated, skin left on
Juice and zest of one medium lemon (about 2 tsp zest)
1/2 cup dry white wine
1/4 cup flour for dredging

Combine the marinade ingredients in a small bowl and set aside. Rinse and pat dry chicken. Rub the Chili garlic rub all over the chicken pieces and place in a large bowl. Pour the marinade over the chicken making sure to get plenty underneath the skin by wedging your finger between the skin and flesh. Cover the bowl with plastic wrap or place chicken in a zip-lock bag to marinate in the refigerator for 2 hours or overnight.

Preheat oven to 375°. Lightly dredge (coat) the chicken in flour, patting off the excess. (we use a large zip-lock bag and do the "shak'n bake" style - less messy!) In a large saute pan set on medium-high heat add olive oil then lay in the chicken, skin side down first, browning both sides throroghly (about 3-4min per side). Remove chicken from the pan and lay them in a 13"x 9" casserole dish or roasting pan. With the pan still on the heat, add the lemon juice, zest and white wine to deglaze the pan, scraping up any browned bits and pour it over the chicken. Add the unpeeled whole garlic cloves to the chicken, nestling them around the legs. Bake for about 40-45 minutes or until the juice runs clear when piercing the chicken with a knife tip.

The lemon juice and wine together with the juice from the chicken, garlic and rosemary make a succulent sauce! Just be sure to skim off some of the excess fat first. Serve with a garden salad and green beans or mashed potatoes. Whatever your heart desires!