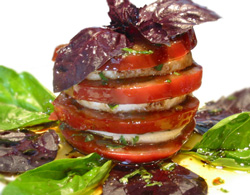 ---
It's our version of an Italian classic. The basil compliments the tomatoes and the fresh milky flavour of mozzarella ties everything together.



INGREDIENTS:

1 med. vine ripened tomato
1 ball of fresh mozzarella (bocconcini)
3-4 leaves of fresh Genovese basil chopped + a few left whole for garnish
3 Tbs good quality extra virgin olive oil
1 Tbs balsamic vinegar
sea salt and fresh ground pepper

Finely chop basil and set aside. Slice the tomato and mozzarella into roughly 3/8" slices.

To assemble the stack start with a tomato slice then add a slice of cheese. Sprinkle a little of the chopped basil on top along with a little bit of sea salt and black pepper. Repeat the layers ending with a tomato slice. Drizzle with the olive oil then the balsamic vinegar. Sprinkle again with a little salt and pepper and any remaining chopped basil. Garnish with basil leaves and dig in!