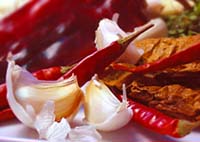 ---

This is basically a garlic salt with a really wonderful deep, smokey flavour because of the chiles. The best garlic salt you've ever tasted! Makes a great rub for most meat, especially pork, beef and chicken. Use it in place of salt and add it to rice, beans, even mashed potatoes. Sprinkle some on corn on the cob and a squeeze of lime - to die for!

Toasting dry herbs brings out their flavour! Simply heat a small skillet on medium-low and add your herbs, shaking the pan to prevent overbrowning. They'll give off a wonderful perfume as they toast. After a minute or two take them off the heat and transfer them to a plate to cool. Grind them further if needed and they're ready to use! For the optimum flavour, only toast what you need at the time of cooking.
INGREDIENTS:

Note: It is highly recommend you wear rubber gloves while handling the chiles, they will irritate and burn your fingers.

Dried chiles:
5 chipotle chiles
2 ancho chiles
3 arbol chiles
3 guajillo chiles

25-30 cloves garlic peeled
¼ cup dried mexican oregano leaves, toasted
1 ½ cups kosher salt
½ cup canola or corn oil

Preheat oven at lowest setting (around 150-170°). Heat the oil in a small skillet to medium high heat, if it smokes it's too hot. Take one or two chiles and fry them in the oil for about ten seconds, turning frequently, until puffed and slightly browned. They can burn really fast which makes them taste bitter so be sure to watch them. It's better to be under-toasted than burned! Set them aside on a paper towel to drain and cool. Repeat this step with the rest of the chiles adjusting the oil tempurature if necessary. (save the oil! It's great for cooking with added flavour of the chiles.)

When cooled, slice down the center with a small knife and remove the seeds and stem. Take all your chiles and whiz them in a food processor or preferably and old coffee grinder until finely ground. Then add in all the remaining ingredients and process until you have a fine crumbly mixture. Spread the entire mixture evenly on a jellyroll pan and let it dry in the preheated oven for 2-3 hours or until it feels fairly dry. At this point whiz them one more time in the processor to break up any hard bits. Store the rub in a lidded glass jar away from heat and it will keep for at least a year, but we're sure you'll use it up by then! Makes about 2 ½ cups.