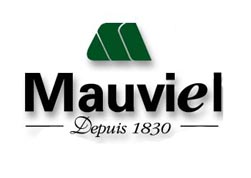 Mauviel M'250 Copper Cookware

For centuries the ultimate cookware has been heavy copper, so it should not be surprising that today copper is still considered the ultimate in cookware. Copper cookware provides amazingly even heat distribution, thus preventing hot spots that cause food to scorch and stick. It responds to heat changes very rapidly, providing the cook with maximum control.

170 years of metal working experience destined to the professional carried out by highly qualified and motivated staff. Mauviel uses the most up to date metallurgical techniques available ensuring the highest guaranties of quality.
Mauviel stainless steel lined copper cookware has utilized new and improved methods of bonding stainless steel to Copper. This professional copper cookware is 2 - 2.5 mm solid copper, 18/10 surgical stainless steel lined with cast iron handles. Each piece has an exclusive no-drip rim.The stainless steel and copper are bonded in sheet material prior to the forming of the pans. Because the stainless steel used is very thin gauge it does not inhibit the cooking qualities of the copper, and makes clean up fast and easy. This is the next generation of copper cookware.

Mauviel products are present in the the most prestigious kitchens and hotels in the world. Mauviel products are also used in the FERRANDI and MEDERIC higher cookery schools in Paris and in many other higher cookery schools in France. These are just a few of the references that bear witness to the quality of Mauviel products.